Navigating change, sensemaking, strategy and vision building all rely on story leadership. It is the proven pathway to strengthen empathy and engage in problem solving through lived experience and cultural intelligence.
When faced with complexity and the challenges of today, story provides the human-centered approach that is inclusive, insightful, and empowering.
Building on our extensive experience of using story to drive organisational, community and societal change, Digital Storytellers can design workshops, experiences and processes that unlock how your team, organisation or community can use story to activate purpose, engage and lead into the future.

Leading Through Story scholar and alumni workshop 
Partner: Australia Awards and Scope Global 
November 2021 
The Australia Awards are prestigious scholarships offered by the Australian Government to emerging leaders from around the world, giving them the chance to study and research in Australia. The Australia Awards Alumni program, managed by Scope Global, offers continuing professional and personal development opportunities to scholars. 
After delivering a storytelling workshop at the Regional Alumni Workshop in Colombo in 2020, Digital Storytellers was invited to deliver a virtual workshop for current scholars and alumni, focusing on how story can be used as a tool for leading in communities, organisations and initiatives, through listening, engaging and understanding stakeholders views and perspectives. The participants also learned practical tools and techniques for creating and sharing stories to inspire and persuade across various platforms and mediums, including virtual presenting, digital storytelling and written stories. 
"I am very much thankful to Australia Awards for organising such an impressive professional development training on storytelling," says Kencho Lhamo, an Australia Awards scholar from Bhutan who is currently studying at Edith Cowan University. "This session was an enriching experience for me. I have found many of the techniques and tips from the session directly relatable and applicable in my workplace for persuading and inspiring positive change."
The workshop was delivered through Spatial and Zoom, and was live-scribed by Devon Bunce.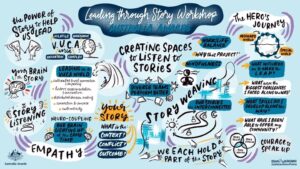 Leading Through Story Seminar 
Partner: University of Wollongong 
October 2021 
The University of Wollongong's UOWx Seminar series aims to prepare the next generation of leaders with the tools to lead in an uncertain and rapidly changing world. Digital Storytellers was invited to present a session for the series, which introduced 80 students from various disciplines to the power of storytelling for organisational change and business transformation, to help engage, connect and develop strategy.  
The session was highly interactive, with group activities and individual exercises to engage participants with the concepts of story 'listening', story 'weaving' and story 'telling' as leadership tools. Coupled with business examples in the session highlighted how storytelling is used and how effective it can be when implemented at a senior level in organisations. The session was live scribed by scribe artist, Devon Bunce, who created a visual snapshot of the discussion, for students to take away and for UOWx to share more broadly.   
"This workshop was very educating and fascinating! Great skills gained from it and the activities were fun and it was good to reflect on our experiences." 
"This was a wonderful seminar and I hope that it continues in the following years to come."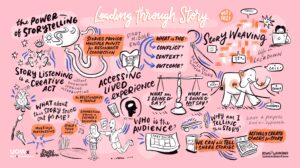 Leading Through Story – Digital Storytellers' End of Year Event 
December 2021 
Faced with the complexities and the challenges of today, story provides the human-centered approach to moving forward together, that is inclusive, insightful, and empowering. 
Creatives and social changemakers already understand why story is important; as do most activists and even most politicians. But we are facing an increasingly VUCA (volatile, uncertain, complex and ambiguous) future, and it will be important that leaders across all sectors are able to tap into the power of story, to listen, engage and move forward with their communities. 
Story Leadership will be essential for navigating our world in these times. And the good news is anyone can be a Story Leader!
To wrap-up 2021, Digital Storytellers invited our community to learn about and experience story leadership in a workshop and panel.
The one-hour panel was hosted by Rebecca Tapp (CEO of Future Crunch, host of the DNA Of Purpose Podcast) and featured: 
Kate Harris, social ecologist and experienced designer, coach and facilitator of Leadership Development across all sectors, and

Millie Rooney, National Coordinator for Australia reMADE, a vision-based collaboration of everyday people and community leaders working to build a country where people and planet come first.

Luke Briscoe, a proud Kuku-Yalanji man from Daintree in Far North Queensland and founder of Indigi Lab, an award winning company that advocates and incorporates First Nations Science and Innovation in creating positive solutions to the vast Environmental, Cultural, and Social issues facing Humanity. 
Throughout the hour, the panelists explored everything from story-led processes within business to facilitating systems change in community. Watch a recap of the panel below.  
Timestamps 
0:00 – Opening

1:45 – Panel Introductions + why the 21st century belongs to those who lead through story

10:16 – How the stories we seek out and share also inform and influence us, and how they come together to create collective story DNA. Example of a process to distill and curate a collective narrative.

15:15 – How do leaders acknowledge the personal stories, but also build a bridge and find a universal narrative that is going to speak to a broader audience?

17:25 – What is Story DNA and what does it mean to decolonize the mind in relation to storytelling?

26:43 – Taking ownership of the story you tell yourself. How does it influence our ability to show up courageously as a leader in a world of known unknowns, and unknown unknowns?

31:18 – How important is it to get clear on the story of who we are becoming? The power of story, the care of story, the stories we can get trapped in.

35:34 – The tension between being inclusive and cohesive, and dishonoring diversity and creating a homogenous monoculture. How do we craft a story that weaves a tapestry for this tension, whiles also curating a collective story that meets the needs of the organisation alongside the community? And do I have a right to be a voice?

40:17 – Navigating the paradox where the brand story matters, but also the people and their authentic selves and truths

43:57 – Weaving a common thread between sometimes vastly or intricately different stories

54:31 – The interconnection and symbiosis betw
The panel was followed by a 1-hour interactive workshop, facilitated by Julia and Tash from Digital Storytellers. Throughout the hour, participants were invited to connect and listen to stories from themselves and each other, use these stories to learn and gain insights, then collectively vision into the future. 
The plurality of voices and ability for storytelling to convey multi-layered engaging communication is one of its key strengths. In the workshop we used storytelling tools such as Story Mapping and Story Listening techniques to show the audience how deeper understanding and communication benefit problem solving, strategy and vision making, as well as change management and team empathy & connection.