A community of impact storytellers is born
The 20th of October 2018 marked a special day in our hearts. A community of impact storytellers was born.
The Backstory
It's been a journey for us at Digital Storytellers. What began as a small group of storytellers who gathered one summer in Tasmania — our first of many regular team "retreats", fondly dubbed the Tarkine moment — deciding we wanted to "do this together" as as a shared vocation, led to us embarking on a journey as a social enterprise. Scary, exciting, challenging, filled with highs and lows, laughter and some tears, but immensely fulfilling. Five years on, we're a team of about 10 people, and a wider team of values-aligned storytellers that we also consider part of the Digital Storytellers family.
Somewhere along the way, we got a little (too) serious "as a business". And while had cultivated some special connections to many people and organisations in the community, it was our time at Enspiral Summerfest earlier this year that really rekindled how important our own community was to us, and we came away inspired to help build wider community of impact storytellers. We had been missing the community spirit that was so much a part of why we came together in the first place.
We didn't have everything figured out, but we had started thinking about what we could do for our community of other like-minded storytellers, and what it would mean to co-create a future where we are all able to do to the work we love, create the impact we want to create, and make a living from it as well.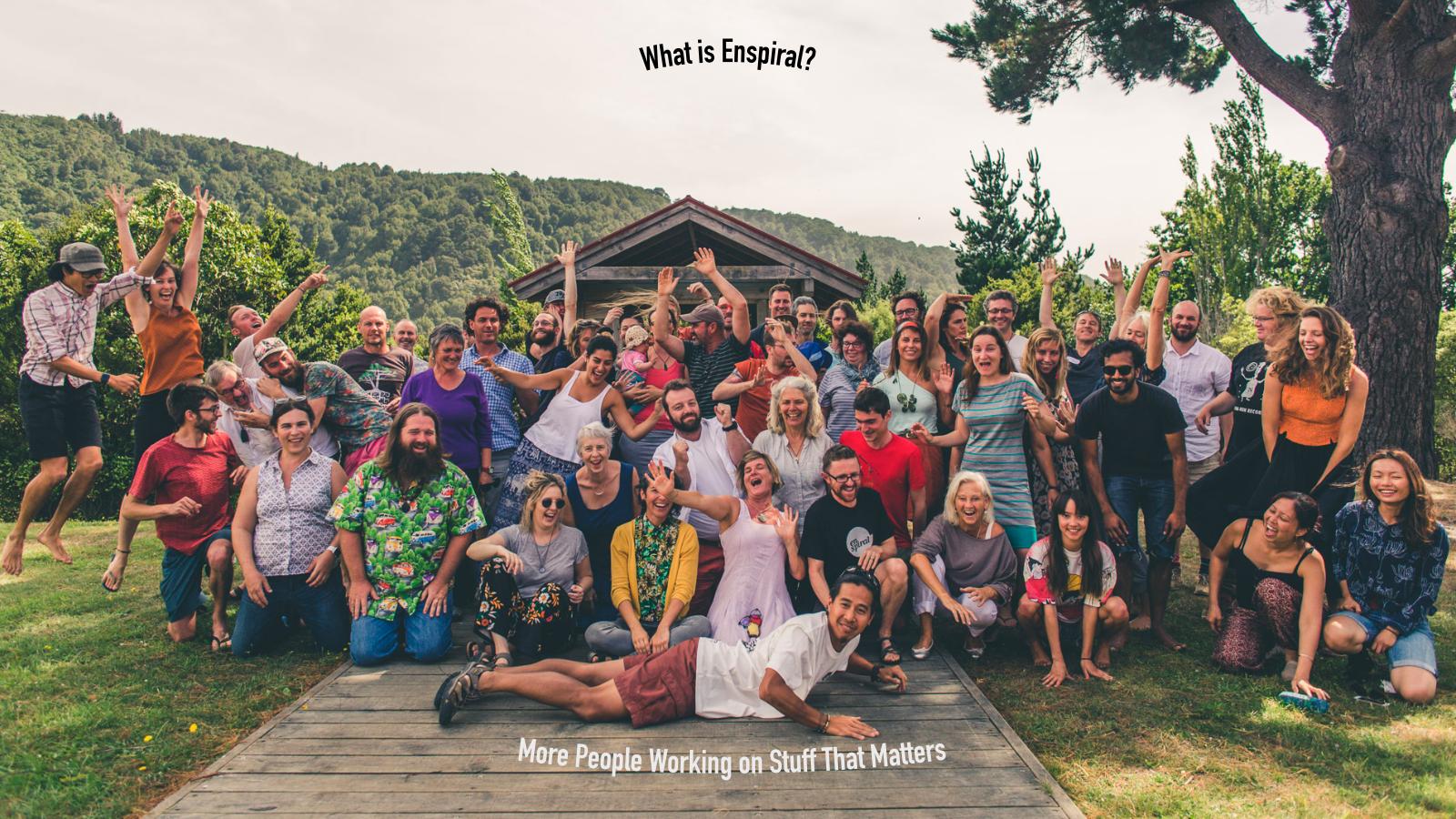 The Vision
At a high level, we wanted to co-create a community that will help build a collective culture and craft. We wanted to be part of something — yet to emerge from the community — to help scale impact by supporting others on the journey and to flourish on their own paths to purpose. But like many good things, this vision was still a dream. And like many aspirational dreams, it would take time, effort and a people coming together to make it real.
So how would we get there?
We knew we didn't have all the answers. However, we believed in the power of decentralised organising and self-leadership — that the solutions lay within us each, and together.
So as a first step, we hosted a co-design day for the community of impact storytellers to come together within a co-design process to see what we might co-create.
Through this day, we hoped to build connections, understand the challenges and obstacles shared between us and what lay in the way of us reaching our highest potential. We wanted to create a space to co-create together; and for each person to walk away with some tangible commitments or actions to help us move forward.
The invitation to everyone was to co-create something for the collective good of this community under a shared vision. Digital Storytellers' role would be to host and facilitate what would emerge.
The Co-Design Day
Storytellers who cared about a better world gathered to meet, connect with other storytellers like ourselves, and explore…
What would help us flourish as individuals and as a community?

What limits and challenges do we face as impact storytellers?

How might we co-create an opportunity space for our community of impact storytellers to flourish?
We didn't know what would emerge from the day, but worked with  human centered design facilitator Kim Shore to create a day that would spark some great conversations, heartfelt connections, good fun, potential collaborations and lots of ideas. Aiming to be both visionary and inspiring, yet practical and helpful, there was time to connect with other storytellers, share our own purpose, discuss ideas and also enjoy some good food.
The invitation was to bring our authentic spirit, inspired creativity, a strong sense of purpose and be open to the journey in playful collaboration with like-minded hearts & souls.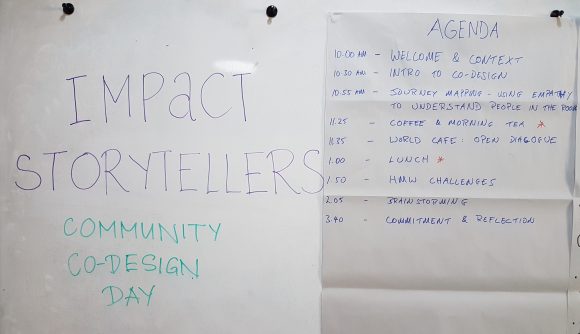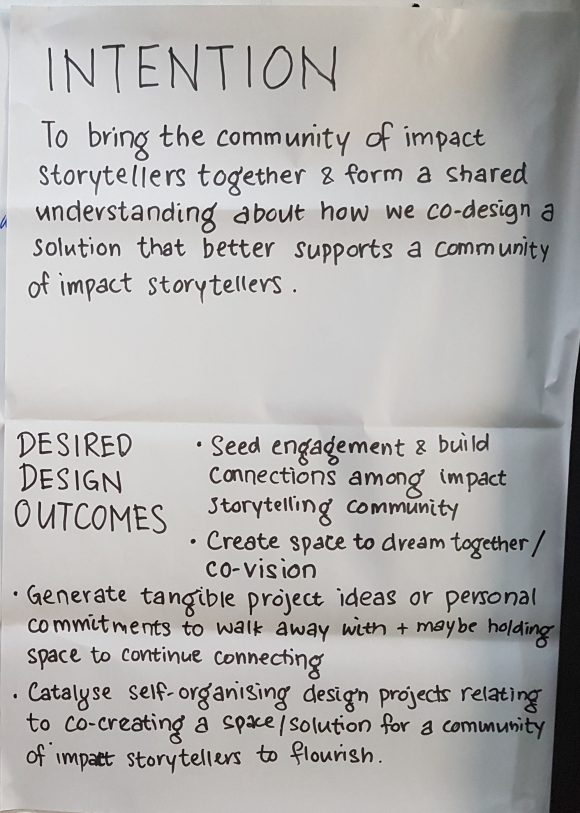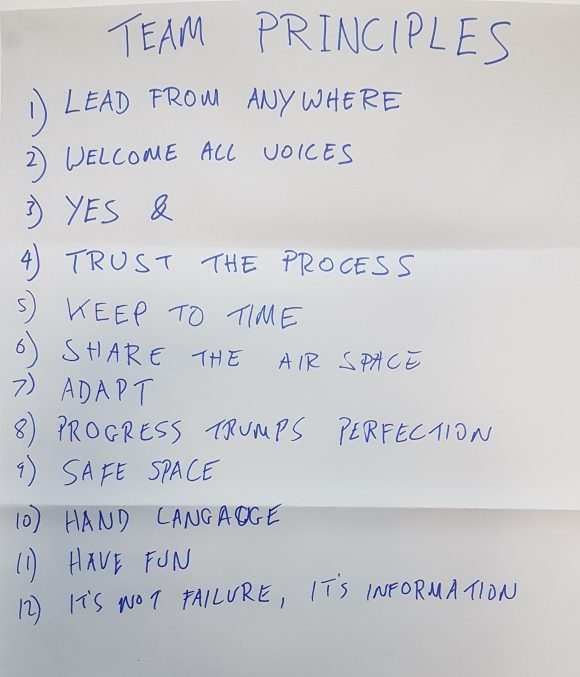 Who was "in the room"?
We were a mix of storytelling practitioners at various points of the journey, from aspiring, to emergent to established:
Filmmakers, scribes, an animator and actor

Story facilitators for social outcomes

Story coaches

Those working in communications with organisations for social causes
28 participants were there in person, 6 participated virtually from across the globe via video, and 9 who couldn't be there on the day and elected to share via questionnaire.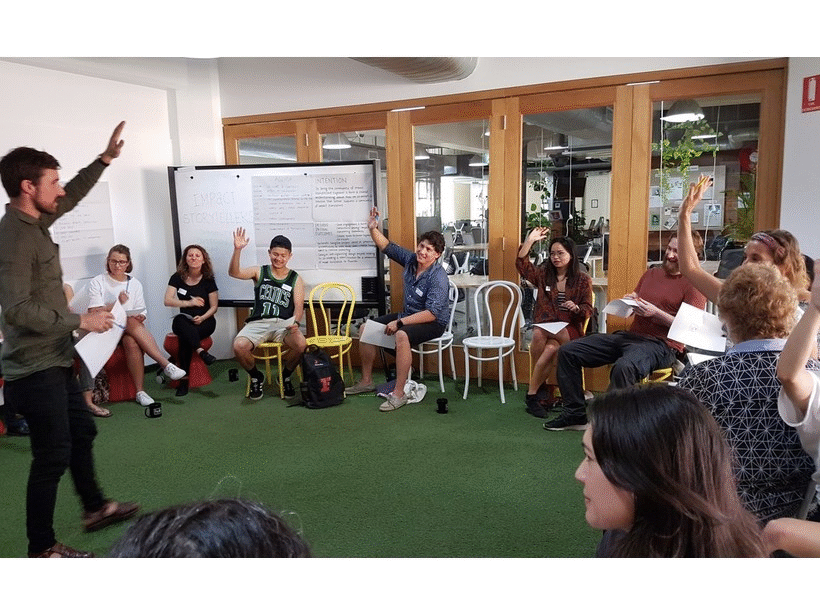 Getting to know each other
Those who couldn't be there in person said hello virtually.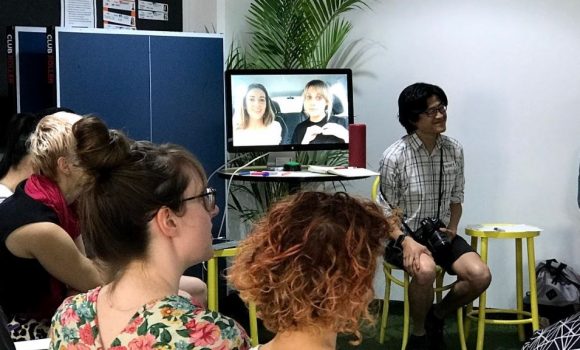 Some quick intros! Check-ins from global impact storytellers…
They tell us why they are here.
We drew each others portraits. And told each other what we would like to give, and what we would like to get.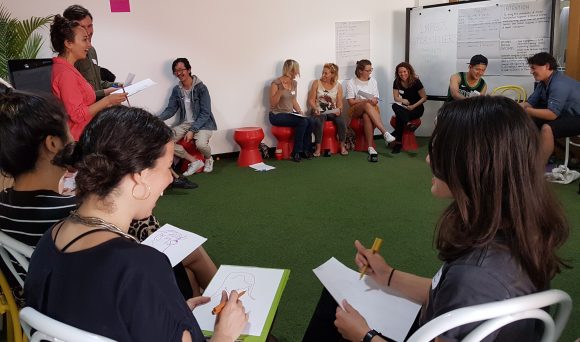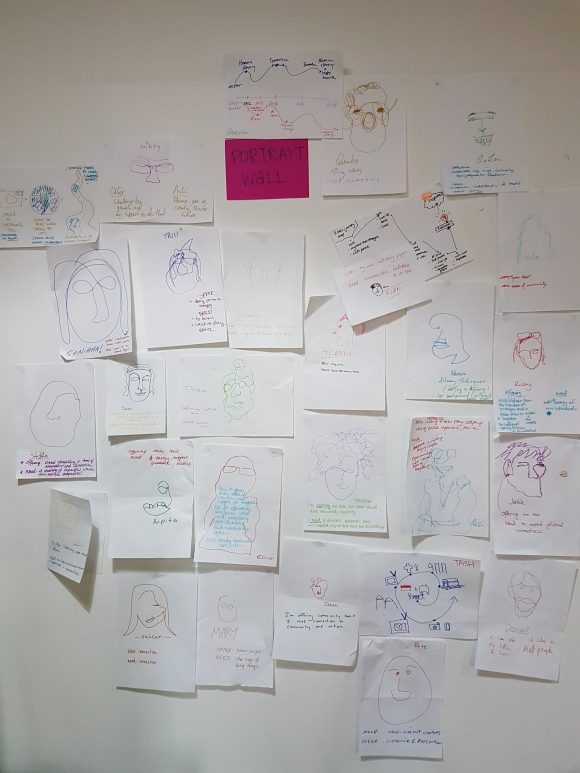 What does a community of Impact Storytellers mean to you? What is your vision for this community?
"I think it's a group of creatives – copywriters, filmmakers, photographers, etc. – that have a social conscience at the heart of their creation, who use their abilities to make the world a better place, or more aligned with what we imagine a 'better place' might look like in the future.
My vision for a community like this would be a mutually beneficial, supportive, inspiring connection base where people could come for anything they need to help them produce content that changes the world for the better. Like emotional support, ideas and inspiration, feedback, resources, etc." – Ellie Keft, Fred Hollows Foundation
"Digital storytelling requires many different skills to realize a powerful and truthful film. In many cases the technical difficulties can interfere with the documentary sensitivity. A community of storytellers will be more likely to gather a team with all the necessary skills to produce a story with impact and not hindered by technical distractions. In addition, collaboration by like-minded people is the most powerful way to realize a creative film story. A community is by its nature a natural network that can share resources and knowledge. A community based around storytelling would be a most effective force for change." – Bernard Peasley, Stop Adani Moonee Ponds 
"A positive collaboration amongst creatives where everyone is seen as equal contributors" – Hawa
"Real stories that connect for positive change. Stories instead of busyness. Stories that encourage us to listen deeply and reflect critically together." – Julie Foreman
"If anything was possible…"
Storytellers shared their stories… including challenges and obstacles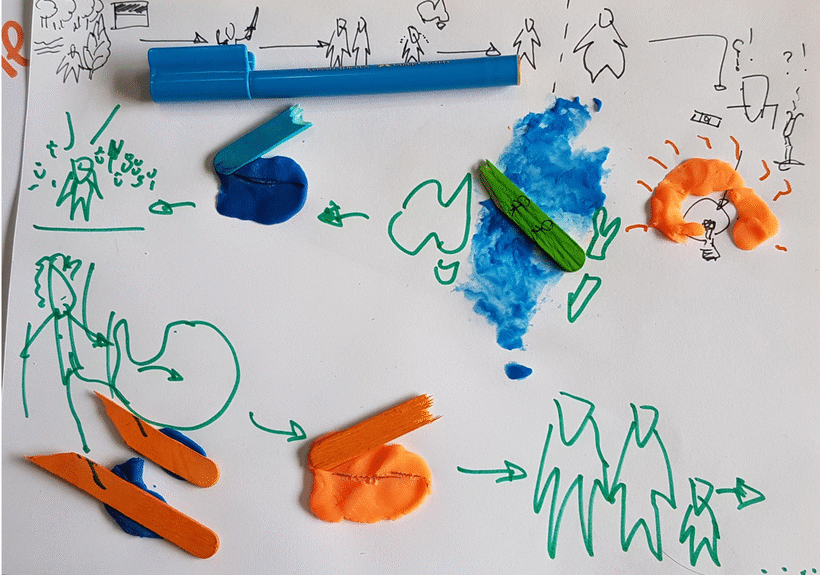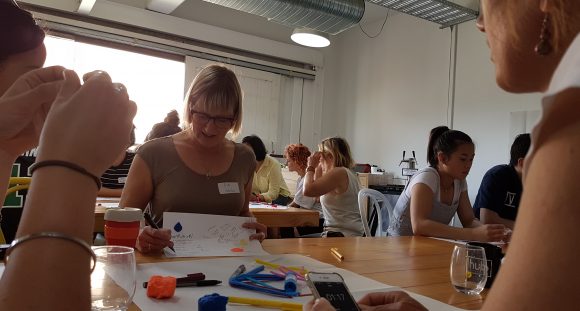 What might this community do for and with each other?
"A community like this will naturally be a magnet for people wanting to realize stories but may not possess all the resources they feel they need to start and complete: interview skills; camera skills; sound recording; editing; production and distribution. I am generally alone in this endeavor and that makes realizing a film very difficult. Hopefully, a community will help me find a team." – Bernard Peasley, Stop Adani Moonee Ponds
"I guess with raw skills, productivity tips, and maybe a few tools to help convince budget-makers in larger organisations how important storytelling and content production and creation is." – Ellie Keft, Fred Hollows Foundation
"I work in mainstream media. It would be wonderful to connect with like-minded creatives to develop, produce and broadcast stories that have purpose. Also that contribute to future generations." – Paneeta Schwinghamer
"Collectively promoting of the role and value of an impact storyteller to a client.  Working together to scale, support and and make the sum of our parts greater than the whole. Enable us to draw on each other's talents to scale our services and impact.
This community can help us all bring to life the story of what an impact storyteller does and the value they bring. When I tell people I'm an impact storyteller, they seem to think – 'sales spin doctor' or 'children's entertainer'!" – Liz Locksley
"They can provide advice, assist with projects, networking, help with getting resources" – Hawa
What are some of the challenges?
"Time, money the usual for any working creative balancing wanting to tell impactful stories while still generating income" – Gabiann Marin, Telltales script and Story development
"Overwhelmed by what's out there in the world – in terms of systemic issues but also the plethora of ways to tell stories. Working in silos." – Helena Rosebery, PrincipleCo
"I imagine that like me, many impact storytellers, are sole traders, or SMEs.  It can be lonely and hard doing business development alone and finding a way to make a living wage while staying true to my values. The world does not necessarily understand the value and craft/trade/profession of impact storytelling, and how it contrasts with more established trades like 'marketing/sales', 'entertainment' 'evaluation' and accounting." – Liz Locksley

"A simple lack of confidence." – Andrew Vien-Debetaz
"Insufficient film crew with a social change motivation and filmmaking skills." – Bernard Peasley, Stop Adani Moonee Ponds
"Devaluing of stories by decision makers. Time." – Julie Foreman
"Time to explore and do storytelling as it's not a core responsibility of my current role. If it were to be a core responsibility I imagine funding will be the biggest challenge." – Tania Johnson, Ability Links
But of course, what is community without food?
Amazing food with a social impact from Parliament on King filled our bellies, hearts and soul; all home-cooked from traditional recipes.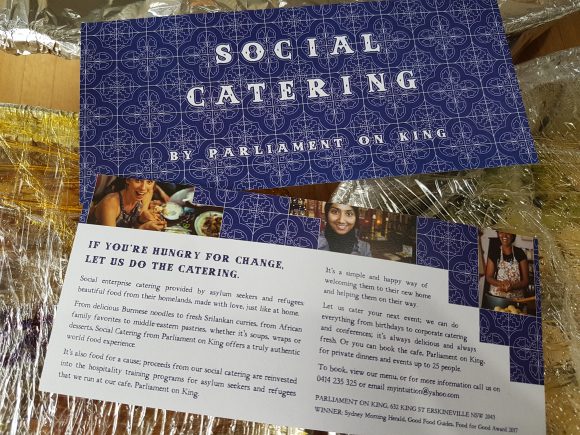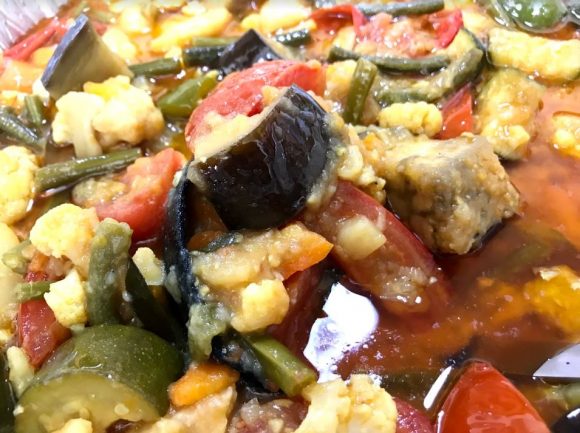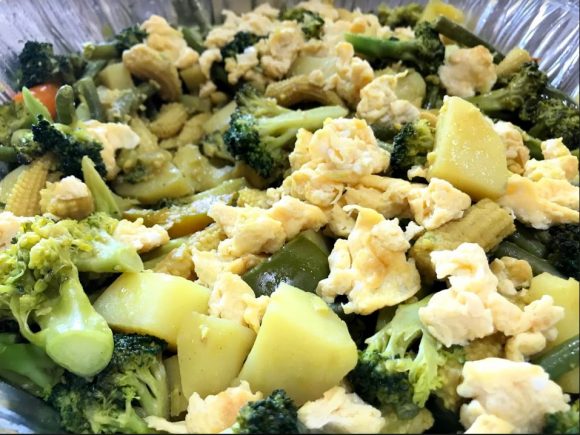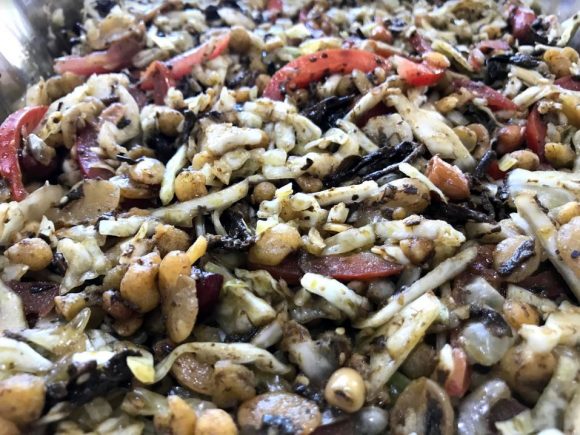 "Behind-the-scenes" – Ravi, founder of Parliament on King tells us the story of the food, the folk behind it, and the change it creates.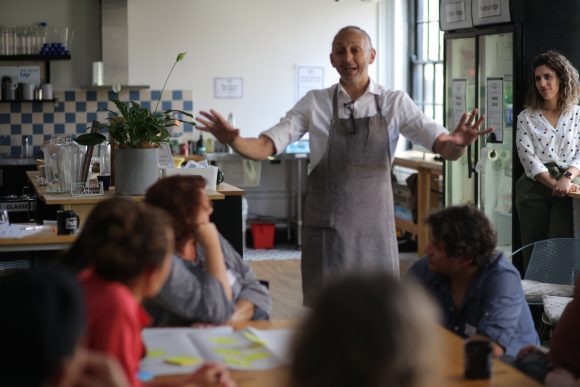 Back to the drawing board…
OPEN CAFE
This was our design challenge…

What is limiting us as a community of impact storytellers
from creating collective impact? Preventing collaboration?

What emerged? Bringing it all together.
After lots of post-its and butchers paper…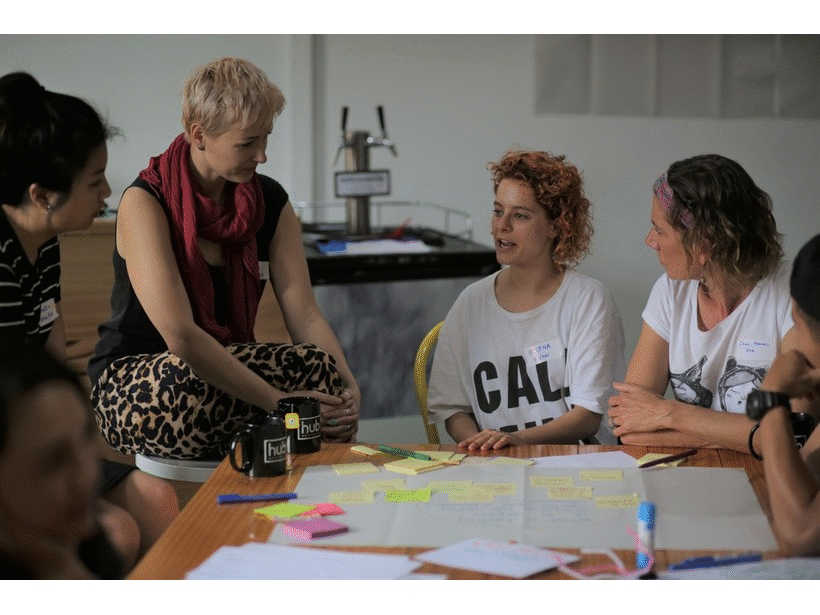 THE THEMES WERE…
Culture

Finance and project value

Building Skills

Finding Your Tribe
THE IDEAS & SOLUTIONS…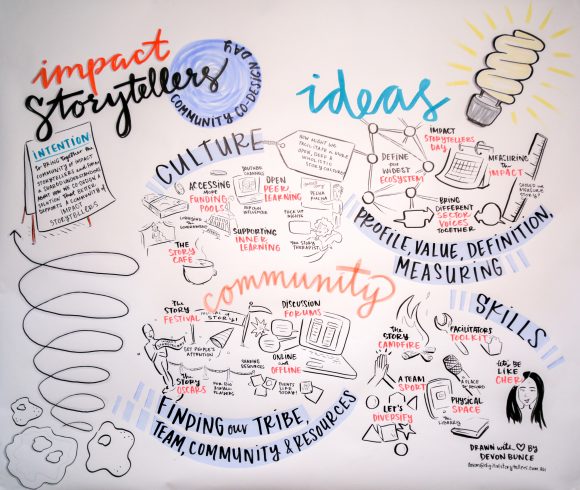 Credit: Devon Bunce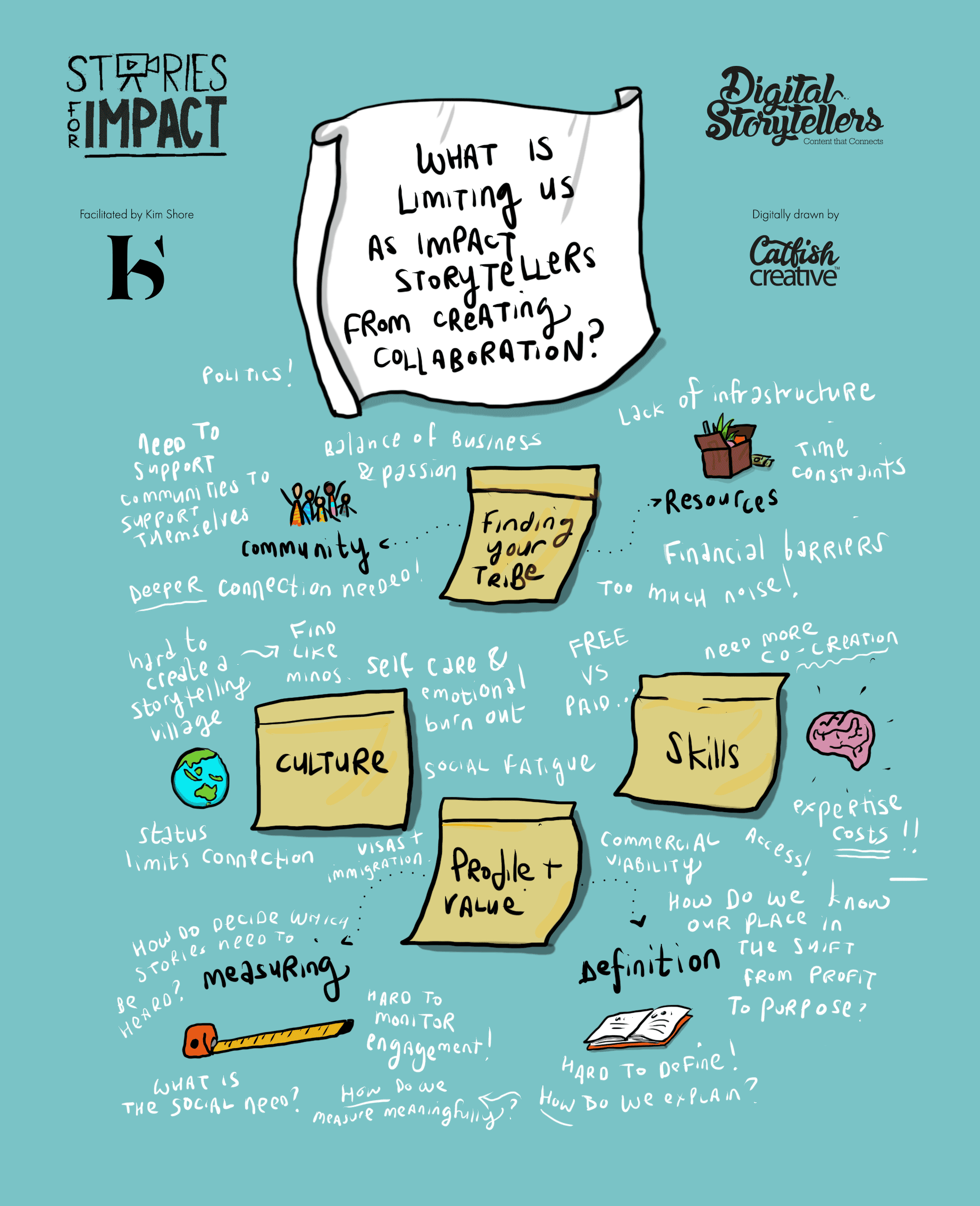 Credit: Cath Leach, Catfish Creative
Like to see more?
Check out more pictures from the day here (Credit: Mikey Leung)
So, What Next?
We agreed we would stay connected via:
E-mail
If you would like to be looped in, subscribe here to stay posted. We'll let you know about upcoming activities, ideas, get-togethers, initiatives and other opportunities to connect with the community, and
Facebook Group
A closed group for those who have attended a gathering to continue to connect offline and self-organise other events and initiatives. Membership is by invitation of other members, or if you have attended a gathering or activity with us.

And that in two weeks we would drop our accountability buddy a line to check in on the commitments we made that day.
We're looking forward to what unfolds next!
---
CREDITS
Our heartfelt thanks to all who made this day everything it was.
TEAM
Kim Shore (Human Centered Design Facilitator)
Sonia Mehrmand (Event Coordinator)

The Digital Storytellers Team
Zara Choy (Project Driver)
Mikey Leung (Host & Photos)
Pete Dowson (Video)
Natasha Akib (Host)
Daniela Benavides (Host)
Devon Bunce (Scribing)
Cath Leach (Scribing)

CO-DESIGNERS &
FOUNDING COMMUNITY
In Person
Arpita Sinha
Cath Leach
Christine Carlton
Daniel Gregson
Ellie Keft
Fallen Guthrie
Helena Rosebery
Jeanne Ng
Julia Nalivaiko
Justin Jones
Kian Ng
Liz Locksley
Mary Tran
Nicla Comparin
Nicola Swift
Quentin Yung
Ricky Silbersher
Samantha Heron
Sarah Martin
Steffie Yee
Thea Soutar
YunJung Chen (Peter)

Virtual
Michael Margolis
Gillian Grisman
Jonathan Lee
Julia Loersch
Kim Ingles
Jayde Harding


In Writing
Brendan Raymond
Julie Foreman
Gabiann Marin
Hawanatu Bangura
Helena Rosebery
Liz Locksley
Ellie Keft
Paneeta Schwinghamer
Andrew Vien-Debetaz
Bernard Peasley
Tania Johnson
Parliament on King (social catering)
The Hub (venue and our home)