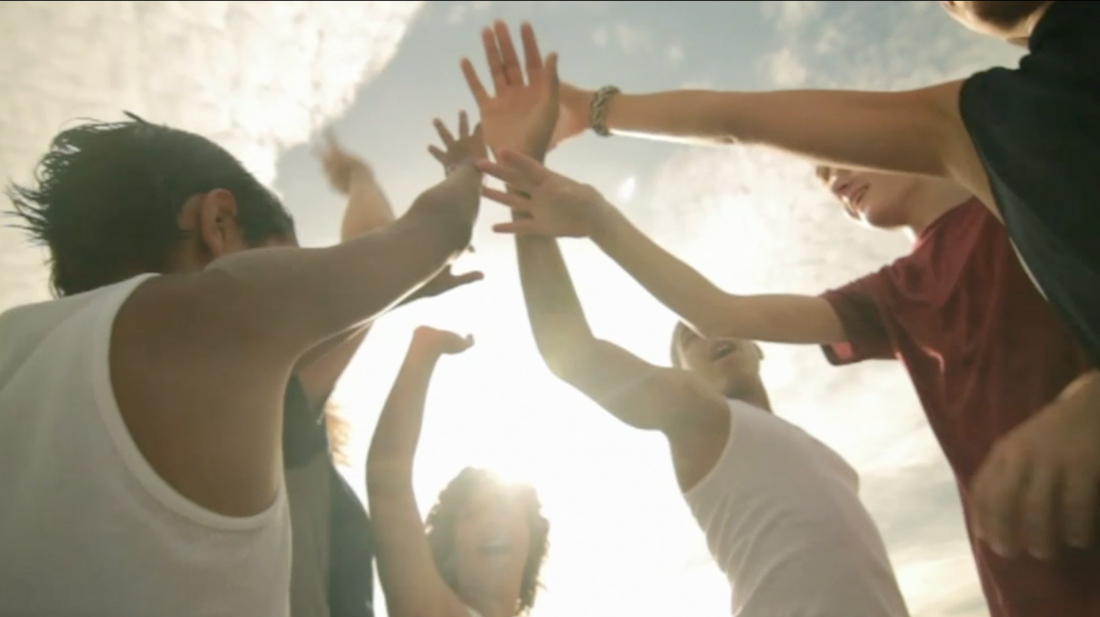 7 things we've learned from 7 years of Digital Storytellers
The business of running a social enterprise is not all sunshine and rainbows, but it is enlightening, pride-filled and can be a helluva lot of fun. Here are seven of the lessons learned in the seven years of telling stories that create a better narrative for the world since 2013.
When a relationship reaches its seventh year, some say it starts to develop an itch. For a large dog, by its seventh trip around the sun, the big guy is well and truly reaching middle age. For human children, by seven years old most are telling the time, riding bikes, and telling their left from right (ok, that last one might still stump some of us adults). Yet for a small business, well, only a handful ever make it to their seventh birthday, so what's considered 'normal', particularly when you reach the milestone during a bloody pandemic, is anybody's guess.
Whether it's overheads creeping up high, the constant hustle to meet market needs for your product or service, or hanging on to quality people – being in business for seven years definitely tests even the most committed and purpose-driven amongst us. This becomes even more complex when you add the unique challenges of being a social enterprise and certified B Corp, committing to the highest standards of social, environmental and ethical practices. But, we stand here today, proudly after seven magnificent years in business, ready to share some of the lessons we've learned along the way…
Lesson #1 – Progress over perfection
Our society and culture produces, nurtures, and demands perfectionists, leaving many of us paralysed by half-written blog posts and 'almost-finished' stories. It took writing this, and trying desperately to capture seven pithy and uber-valuable insights on seven years in business, to finally own the mantra: 'progress over perfection'. If the pandemic has taught us anything, it's that everything we think we knew can be thrown out the window in a matter of moments, and sometimes 'done' is better than 'perfect'. Striving for perfection in business, as in life, is a fool's errand and we're no fools (or are we? You'll have to wait until #7 to find that one out!) 
Lesson #2 – Stop and smell the proverbial roses
As in life, the journey of your business is paved with ups and downs, roundabouts, speed bumps, and the occasional pothole. Things happen quickly, and it's easy to miss the signs and scenery when you're going at the break neck speed that feels necessary when you have a big, hairy, audacious vision for world change.
That's why, especially in purpose-driven business when your work never feels done, you need to take time out along the way to pause, celebrate and reflect on the journey so far. Find ways to commemorate all those beautiful and bumpy moments – the highs and the lows, the extraordinary and the oh-so-ordinary – because they not only help you navigate the next bit of the path, but they feed you in those inevitable moments when you find yourself wondering 'what were we thinking?' At DS, some of the ways we stop and smell the proverbial roses is by making a 'Memory Wall' with post-its on a timeline and running regular 'collective intelligence' sessions to make sure we extract the wins, losses, and everything in between.
Lesson #3 – Trust your gut, but make it strut
Five years ago, when we wanted to launch our Stories for Impact workshops and training programs, we knew that this was the next step we wanted to take. However, many preconceived ideas we had about the shape these trainings would take were challenged when we started interviewing potential customers for the product. Then, we really put our ideas to the test when we ran a crowdfunding campaign, forcing us to test the messaging, pricing and community demand.
That's why we've learned that it's crucial to trust your gut instinct but also to 'make it strut'; challenge those assumptions, let go of those preconceptions, prejudices, hubris, and stubbornness. Then, and only then, can we be true instruments to channel creativity.
There are so many ways of knowing in life and in business, and we need all of them.
Lesson #4 – Practice what you preach
We are storytellers both by trade, and by nature. However, when we are supporting other people to tell their stories every day, sometimes we forget to tell our own. In fact, we had to hire our own 'storyteller' of sorts to help us capture our story and make sure we were walking the walk, so to speak, because that's one of your very best marketing tools. So, whether you're a plumber, an accountant, a fellow storyteller, or a chef – be sure to fix your version of a leaky tap, too, lest you wind up a preacher with no flock.
Lesson #5 – Profit is also a path to purpose
Social Enterprises and Purpose-driven businesses…we know your bleeding heart. In fact, we have one or two (or twelve) of them ourselves. However, one thing we've learned along the way is that, while harbouring benevolent visions and aspirations to make the world better is brilliant and necessary, we also need our feet on the ground and our head in the game.
It took many years to understand that business is not a dirty word, and that making profit is also a means to achieving your purpose. Developing a healthy relationship with the sometimes taboo and difficult subject of 'money' is key to sustainability, longevity, and fulfilling our mission. Thanks to some business mentoring, we now have a little saying around here: "Revenue is vanity, profits are sanity, and cash is king (or queen, depending on who you ask!). That's something we might have been a little more abashed to say out loud when we started out seven years ago
Lesson #6 – Storytelling is a salve
To tell stories is to be human. We are all born storytellers, and we all have the power of story inside us. We all make sense of and navigate our world through story. We make connections and community based on shared stories. And, storytelling is one of our most powerful and potent tools for uniting under a common purpose.
No matter what work you do in the world – remember to tell stories within and beyond your business. Stories about your purpose. Stories about your customers. Stories about your products. Stories of your stakeholders. Storify your meetings, your strategic planning, your social media feeds. Because, when times get tough, and they will, that's what has fed our souls time and again – gathering round the (now virtual) campfire, sharing and connecting with each other through stories.
Lesson #7 – We are all heroes, and we're all fools
When we teach story craft, we talk about 'the hero's journey' – the journey of the person at the centre of the story who stumbles upon and eventually overcomes the obstacles in their path. Everyone, including us, loves to think they're the hero on a remarkable and 'newsworthy' journey to world change. However, the more we think about it, the more we're really all probably just on a fool's journey, making our way as best we can. And, hopefully, making peace with playing the fool actually makes our collective burden and responsibility to leave this world better than we found it, a little lighter.
So, on this, our seventh birthday – we want to thank you for making so much of it possible and invite you to blow out the virtual candles with us (but keep your spit to yourself). For almost a decade, we are proud to have ventured alongside you, across all corners of this magnificent globe, to create impactful and world-changing stories.
That's over 500 stories of heart, of resilience, of hard work, of impact told. That's thousands of storytellers trained, petitions signed, volunteers recruited. Tens of thousands of dollars raised, wildlife saved, and captured waves. Hundreds of thousands of views, and hearts warmed. Millions of eyes watching and hearts beating for the things you care about. That's a world slowly changing, a community coming together. Here's to the next seven!
---
With years of experience helping people like you to find, shape and share compelling and engaging stories, we would love to hear your idea of how we can change the world together through story. Get in touch!