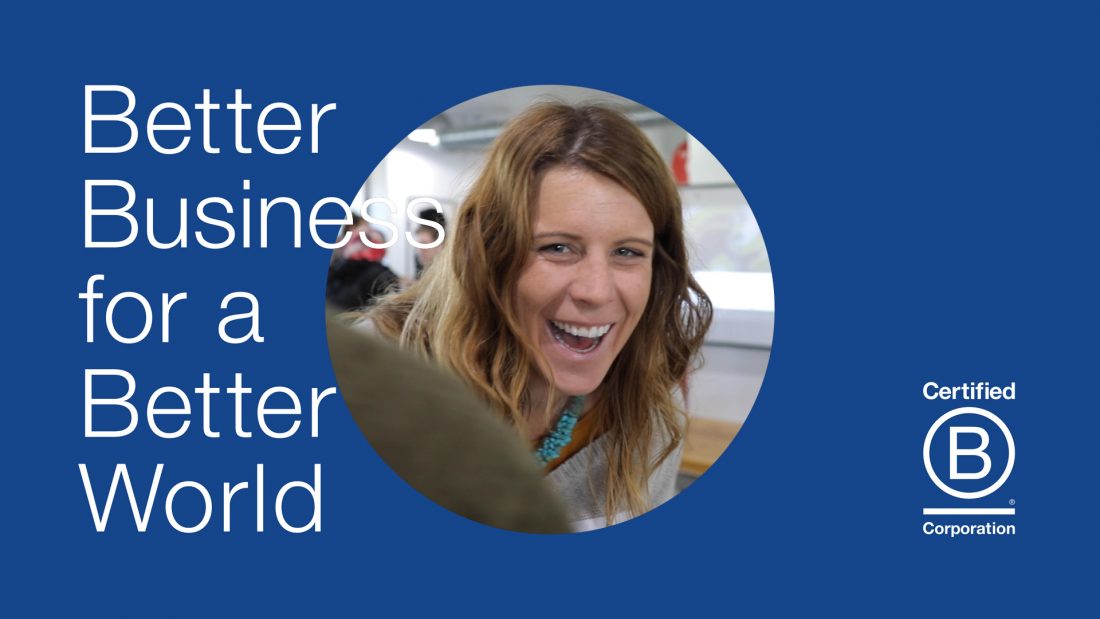 Business is an undeniable part of life, so how can we make it a force for good? 
Business is an undeniable part of life, so how can we make it a force for good? 
This is one of the big questions we've been asking ourselves recently as part of the B Corp and purpose-driven business movement. Here's what we've come up with…
Doing good is actually good for business
We've talked previously about how, if we didn't stick to our values, we might make more money – but what that line of thinking doesn't take into account is 'at whose expense?' or 'at what cost' is that money made? 
In becoming a B Corp, we became even more deliberate about working with fellow purpose-driven organisations and telling stories that align with our personal and organisational values. Storytelling can advance many causes both good and bad, and we wanted to use our power and skills for the good kind. While it felt a bit risky to turn down potential work at first, it was absolutely the right decision for us. 
Why? Because the organisations, people and causes we get to tell stories with align with our vision for creating a better world and have a shared sense of what that world looks like. Living our values in this way is energising, it grows healthy relationships, it builds trust, and it's been great for attracting the best people to our team. Ethical businesses don't just focus on the bottom line, but it's important to point out that our bottom line has not suffered as part of our commitment to do good.
On the contrary, what we've found, and many others who are part of the B Corp and social enterprise movements, is that doing good is *actually* good for business. Most months we have more stories to tell than can easily be told. And right now we are happily expanding our team to keep up with this demand for impact storytelling, because the world deserves to hear more great stories.
The more that businesses take a wider lens and systems-level view of their impact, the more able they will be to play a meaningful role in creating a better world. We absolutely love that. 
Conversations, backed by actions, make business better
One of the things we enjoy about being a B Corp, and an ethical social enterprise more broadly, is that we are forced to look more critically at where we stand on a whole range of values, issues and processes, with no stone unturned. There's a high level of accountability, transparency and responsibility required. The standards we aspire to are high, and so they should be.
Simply by going through the B Corp certification process itself, we had to create space for some important, big picture conversations about the way we do business. And when these conversations unearthed some home truths, as they inevitably do, we needed to commit to backing them up with action and making changes. 
One example of this is Project FreeRange, which empowers our people to work remotely. This supports our home-carers, reduces commuting and affords a more flexible lifestyle.
Another is our Stakeholder Map, which we created to support strategic and value-aligned decision-making. These actions came out of conversations facilitated in the course of our commitment to doing better business, and there are plenty more to come, including our Reconciliation Action Plan. Watch this space! 
Spirituality and business are not mutually exclusive
While 'spirituality' and 'business' are not words you commonly hear in the same sentence – they should be. Why? Because integrating a more spiritual perspective into the everyday running of a business can unlock entirely new realms of possibility. 
As we enter an increasingly volatile, uncertain, complex, and ambiguous (VUCA) world, where disruption, advances in technology, and unpredictability could change the course of humanity instantaneously and forever, we need new codes of ethics, standards of care and a whole new level of mindfulness to navigate these conditions skilfully. In this way, incorporating spirituality and business means operating more purposefully with compassion. By encouraging spirituality and wholeness in our workplaces and demanding higher standards from businesses that we engage and work with, we can co-create a better world. 
Imagine a world filled with more soulful communities characterised by creativity and joy. A world that serves the planet and all beings equitably. One with less transaction, more transformation; less extraction, more empathy; less self-serving, more compassion. You'd be asking where to sign up! (Perhaps start here by learning about becoming a B Corp.) 
There's fun to be had on the path to goodness
Last, but by no means least, what's the path to goodness without a few laughs along the way? Fun, playfulness, and a childlike sense of wonder are going to be the currencies of the future. In many ways, they already are. 
We guarantee there's a whole lotta fun to be had on the path to doing better business – just look at the smiling faces of our team! We are constantly inspired by others doing great stuff and draw strength knowing that we are far from alone on this journey. 
It's clear that business has a key role to play both now and into the future in not only contributing to material wealth and prosperity, but in activating our collective wellbeing, environmental regeneration, and the flourishing of healthy communities. While business alone cannot solve and fix everything, it's up to all of us to shape the kind of future we want, by deciding how we want to do business together. So, what's it gonna B?