What the world needs now is more stories that connect us
Image source: "Let's Move Forward Together" animation for REOS Partners 
Like many of you, we've been overwhelmed by the amount of new information there is to take in, and also trying to figure out how to best be of service. We have also felt a deep responsibility not to add to the noise, but also really wanting to reach out to our community – maybe that's why it's taken us this long to get something out. It's been a complicated time. Well, you get it. However, last time we checked – we're still Digital Storytellers and, if there was ever a time to rapidly innovate and try new ways of telling stories, now is that moment! And, so, we have a few ways to help you do that and ignite your inner storyteller during COVID-19 and beyond… 
Before we dive in, our community means a lot to us and we know that some of you are being hit really hard right now. We are here for you and ready to serve. Get in touch anytime if you want to tell your story.
You have probably gathered by now that we believe storytelling has a key role to play in all our lives but there's something about what we're collectively going through right now that makes it feel especially true.
Ultimately, the stories we choose to amplify in this moment will shape our collective narrative of this pandemic for years to come. By continuing to tell and listen to stories, by being conscious of the narratives we're forming and sharing, by holding space for others – can we connect more deeply with each other and shape our reality in a more meaningful way? 
Do we want to tell a story of individualism, chaos and fear? Or can we find a way to step into a story of community, trust and kindness?
These are some big questions and, while we don't have all of the answers – we hope you know how important the story you tell is right now. 
[/vc_column][/vc_r
Open Scholarships available to anyone impacted by COVID-19
While we're physically distancing and trying to navigate the uncertainty and unpredictability of this situation, digital storytelling is emerging as one of the key ways we can weave the social fabric of our community back together.
That's why scholarships for our popular DIY Stories for Impact Online Course (normally valued at $150), are now open to anyone who has been impacted by COVID-19. We're not defining what that 'impact' might be – just offering free access to anyone who can't afford it right now. Simply apply here or forward it on to a fellow storyteller! We'll keep this offer live throughout the 'lockdown' period.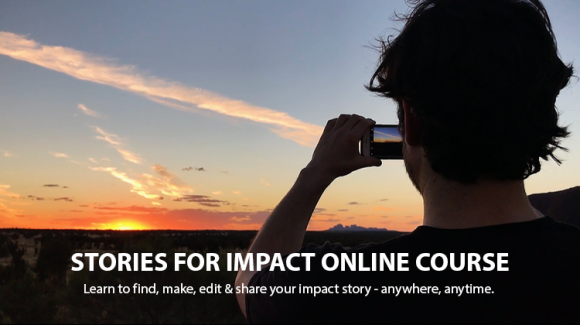 Ways to bringing your digital stories to life from home
Obviously all our workshops are now virtual and we can't do any face-to-face shoots, but we have a host of creative ways to still produce a great impact story! While we have a few new and exciting offerings coming your way soon, these are some of our tried and tested digital storytelling products to help bring your impact stories to life from home for the time being…
Online video training courses
We offer tailored online courses for teams and organisations to help you create your very own video stories! Facilitated by our Stories for Impact team, these online courses are really popular in councils and NFPs and include interactive live-webinars, dynamic video tutorials, how-to guides and resources and are typically run over 4-6 weeks. Perfect for upskilling your team during isolation to create your own content and engage your community. Join from anywhere and learn some new skills together! Find out more and see what previous students have created here. 
2. Remote production and editing services 
Even remotely, we can still bring a film to life using virtual recordings, voiceovers, stock footage or editing existing content. Maybe it's an edit and cut of your company-wide Zoom meeting, or interviews with clients for a new campaign? We love a challenge, so get in touch to see what remote production and editing we can do for you during this time! One of our faves was this advocacy video for a women's health group about 'MRKH', which incorporates interviews recorded via Zoom and original footage (filmed prior to distancing). It's pretty powerful, take a look.
3. Animations and video explainers
Communicate complex ideas in a compelling and online-friendly way with an animated explainer video. Whether it's a campaign animation like this one for Greenpeace or a beautiful brand story like this one for Sun Valley Community Library – animation can be a great way of telling your story creatively and remotely.
4. Digital scribing and illustration
Create a compelling visual story for your event, webinar or conference by inviting one of our scribe artists to 'attend' your virtual event and illustrate your ideas, live for attendees! As well as making your online event wayyy more interesting, this is also a great way to capture insights or create content for social media, blogs and marketing materials. Picture something like this that we created for Naked Ambition. 
While things are changing day by day at the moment, one thing that hasn't changed: we still need people doing good things to share their stories for a better world. 
Stories connect and create empathy – it seems like that's what the world needs right now. So, tell yours. 
We hope this helped brighten your day, even just a little. 
Love from all of us at Digital Storytellers
~
Get in touch if you want some help bringing your story to life right now using digital storytelling and emerging technology.